BSAS Dairy Nutrition Conference
10, Jan 2024 – 11, Jan 2024 (All day event)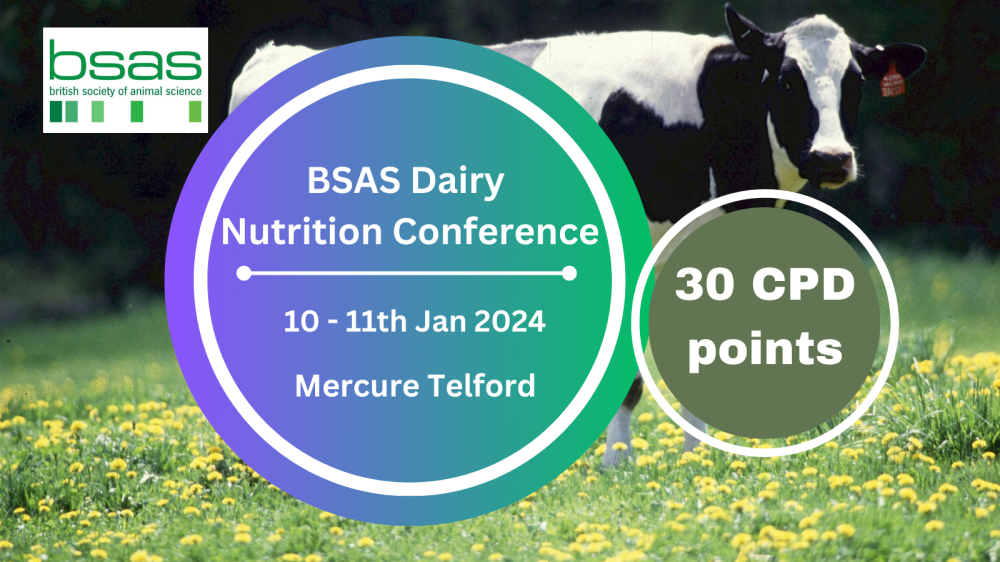 Thank you to our sponsors
If you are interested in sponsoring this event, please contact maggie.mitchell@bsas.org.uk.

Registration Rates
| | | |
| --- | --- | --- |
| | Member | Non Member |
| Early Bird (closes 10th Dec 2023) | £175.00 | £195.00 |
| Standard | £195.00 | £210.00 |
| Drinks Reception & Conference Dinner | £55.00 | £55.00 |
The production and consumption of milk from dairy cattle is of foundational importance in all societies, providing essential nutrients, many of which are lacking in diets globally. The pressures on today's milk production systems are financial, environmental and societal. Feed is the main input cost per litre of milk and dairy cow nutrition is pivotal in sustainable dairy operations.
The effect of improved feed efficiency and longevity on reducing the environmental impact of livestock systems is well-documented. To that end, increasing feed efficiency whilst concurrently reducing disease incidence has to be a priority in modern dairy systems.
Join us for the conference that will showcase the latest recommended practice in feeding the dairy cow. Here, science will underpin applied nutrition throughout the production cycle, from calf to heifer to cow. Global experts, including Dr Dave Davies, Professor David Kenny and Professor Liam Sinclair, will share their science and evidence-based knowledge to help advance your dairy cow nutrition knowledge.
Attendance at this conference qualifies for 30 CPD points.
Key topics:
• Feed Analysis & Evaluation
• Livestock Feed Innovations
• Practical Feeding

10th January 2024
1300 Registration and Refreshments
Opening – Elizabeth Magowan, BSAS President and AFBI
Feed Analysis and Evaluation (related to practical experience on farm)
Chair – David Wilde, Massey Feeds, UK
1400 Methods and interpretation of forage analysis, Dr Dave Davies, Silage Solutions Ltd., UK
1445 Processing methods to optimise feed nutritive value, Prof John Newbold, SRUC
1530 Coffee break
Forage/Pasture based systems – The Challenges
Chair – Prof Michael Lee, Harper Adams University, UK
1600 Practical grazing management for ruminants – the plant's perspective, Charlie Morgan, GrassMaster Ltd
1630 Practical grazing for ruminants – a nutritionist's perspective, Prof David Kenny, Teagasc, Ireland
1700 101 of silage making, Dr Dave Davies, Silage Solutions Ltd., UK
1900 Drinks reception
1930 Dinner
11th January 2024
0900 Registration and Refreshments
Global Livestock Feed
Chair – Prof David Kenny, Teagasc, Ireland
0930 International raw materials, James McCulloch, Agricultural Industries Confederation, UK
Practical feeding
Youngstock
Chair – Dr Steven Morrison, AFBI
1000 Feeding the calf, Dr Ginny Sherwin, University of Nottingham
1045 Feeding the heifer, Dr Alex Bach, Catalan Institution for Research and Advanced Studies
The cow
Chair – Dr Helen Warren, Alltech, Ireland
1130 Feeding the dry cow, Prof Alastair Macrae, University of Edinburgh
1215 Feeding the milking cow, Prof Liam Sinclair, Harper Adams University
1300 Buffet lunch and depart
Sponsorship Opportunities - please contact maggie.mitchell@bsas.org.uk to find out about sponsorship opportunitites.